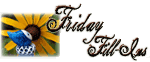 1. Oh, I can't wait until I have a
Wii
!!!
2.
Iced Tea
is the first thing I see when I open my refrigerator.
3. I never leave home without
my cell phone...and chapstick
.
4. If I were a condiment, I would be
mustard
because
I'm spicy and unpretentious
.
5.
Misuse of they're, there, and their
is really high up on my list of pet peeves.
6. The last thing I thought of before I went to bed was
I hope the baby stays asleep
.
7. And as for the weekend, tonight I'm looking forward to
my husband having Saturday off
, tomorrow my plans include
decluttering the bedroom closets
and Sunday, I want to
go to the park
!