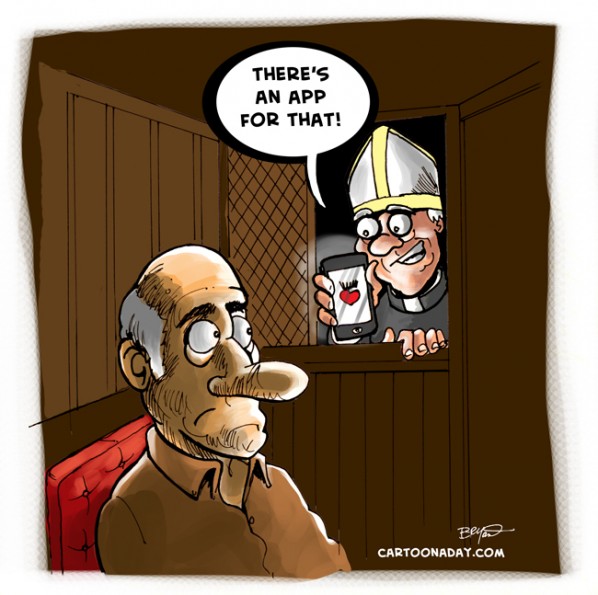 So, a couple of months ago I treated myself to an older model, refurbished iPhone when renewing my cell phone contract (we don't use a land-line). Can't go wrong for $19! I've found a number of great Catholic apps that I love, and wanted to share.
iRosary
- This one was $2.99, a bit pricey, but worth it! You can customize the rosary that you manually move as you pray. Beautiful artwork to accompany the various mysteries, and you can also change the language (including Latin). Also includes the Chaplet of the Divine Mercy and Loreto Litanies.
Confession: A Roman Catholic App
- $1.99 Yes, there actually
is
an app for that! Obviously, this does not *replace* confession, but is designed to take along aide you. I love this one! I know I struggle to remember everything, especially when I'm nervous, but I hate to write my sins down for fear of the list being found (because, of course, I usually leave any lists I make at home!) You can have multiple users with password protected profiles on this app, so dh, dd1, and I can all use it safely and privately. The app guides you through your examination of conscience, based on your vocation, and then populates a confession guide. You can also customize which Act of Contrition you'd like to use.
Compline-
FREE! Liturgy of the Hours night prayers. Love this! Such an easy way to incorporate the Liturgy of the Hours. Audio recording accompanies textual prayers, and a neat option to see a global view of who else is using the app along with you. Very neat.
iBreviary
- FREE! Includes the complete Liturgy of the Hours, of course, though only in text (no accompanying audio, as with the Compline app), and formatted exactly as it is in the printed version. Also includes missal, a huge amount of Catholic prayers, and even rites. Very awesome app!
Word on Fire
- FREE! Keeps you up to date on Fr. Barron's ministry with the latest news, sermons, videos, articles, etc. Fr. Barron is a fantastic defender of the Faith, I love having his videos, in particular, at my finger tips where ever I go.
Evangelizo
- FREE! A simple app that takes you right to the daily Gospel and Mass readings. Also includes information on Saints for each day, as well as common prayers.
I have some others, but these are my best-loved and most used. If you have not listed here, please do share!